Effective Email Messaging
Updated: Sep 13, 2019
Email messaging is extremely important because it can be the first item someone reads pertaining to your company. It better be good too because everyone reads the first sentence in the preview and that's what makes them open your email or send it right in the trash.
Below is an overview on how to increase your openings and become less of a junk folder marketer.
Step 1:
Determine your target market and use a contact list you have been able to organically grow through the years. Don't worry if you are just starting, there are vendors that provide validated prospect lists within your target market. Also, using an organic list, or one you purchased, allows you to further search for like companies and job titles you are targeting. FYI, organically grown lists are by far the most effective so attend trade shows and networking events and get those contacts!
Step 2:
What is your intent with these prospects? How are you even going to get them to open the email?
According to OptInMonster 47% of email recipients open an email based on the subject line alone. At the same time, 69% of email recipients report email as spam based solely on the subject line.
In my experience, if your subject is more than 4 words you begin missing the mark. Keep it nice and tight. Remember, most email platforms show most only 4-5 words and then previews your email by showing the first line of your message.
OptInMonster gives a great list of subject lines based off the intent of your email. You can tweak these for prospects or ongoing subscribers.
Check them out here: https://optinmonster.com/101-email-subject-lines-your-subscribers-cant-resist/
Step 3:
The next part is developing an email template that you can reuse but also personalize for each prospect. The more personalization the better! Think of it as showing the prospect you actually give a damn (separates a lot of sales people).
Dmitry Dragilev, with Criminally Prolific, gave a great example in an article he wrote. Dmitry was able to create a template that worked great for him. His steps for creating a template and personalizing it for a prospect: FYI, he had a 70-80% open rate!
a) Genuine compliment. Praise your contact on something they did or wrote. Elaborate meaningfully about why you liked it. b) Offer valuable help. Browse your contact's social media profiles to see if they have posed any questions or mentioned having any issues with something. Research a good answer or solution for them and offer that in your email. c) One sentence pitch. Your pitch/ask/request should be framed in a way that benefits them. d) Your call to action. Make your request in clear powerful language. e) Your signature. Mention your title and company.
Here's a real example of this format in action: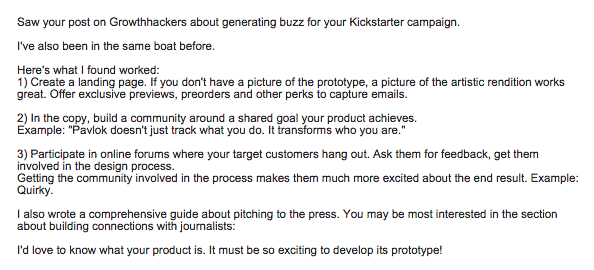 Obviously, Dmitry has a specific target audience and he has a highly tailored email. You can adapt this version to fit your email template needs just remember to personalize and add value before your call to action.
Step 4:
Rinse and repeat for each prospect. The template works as long as you personalize it to each recipient. There are several platforms that can help you automate your email campaigns while also allowing you the ability to personalize. Although the personalization isn't as great as if you sent emails one by one you can still automate name changes, company names, and insert fields that can populate with target specific information. Among some of the great tools out there a few stand out….HubSpot, SalesForce with SalesLoft, OptInMonster, and MailChimp.
-Team xSellr8
For prospecting lists, messaging help, cadences, and more strategic consultations please visit xSellr8 Consulting for help.
�